Director's greeting
The dream of the Middle Ages
Director of Research Center for Foreign Language Education
SHICHIJI Masaaki(Faculty of Economics,German Language)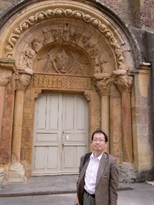 In medieval Europe, a time when freedom of movement was severely restricted, townspeople lived within the confines of the high walls that enclosed their towns. Outside of these walls, dense and expansive forests encroached. If one ventured within, a rich world of fantasy awaited populated by a cast of wolves, witches, and gingerbread houses. However, there were groups of people who did not flinch before the threat of this extraordinary other world and passed through the forests from town to town. These included merchants and traders pursuing riches, apprentices visiting master craftsmen to refine their technical prowess, and students traveling to regional universities in search of teachers and the ideal of ultimate "knowledge." This medieval tradition is still alive in German universities today. With certain caveats, in principle, students can freely move between universities in search of the knowledge and teacher they seek.
In the present day, whereby it has become possible to send information from anywhere in the world, students are once again beginning to move among universities across the globe. Some of the undergraduate faculties at Keio University have already introduced double degrees, and there have also been cases of international students at Keio making use of the exchange student programs to study abroad at a third country. I believe that a situation where everyone studying at Keio can travel around the world in pursuit of their ideal of knowledge and the teacher from whom to acquire this knowledge, as was dreamt by the students of medieval Europe, could be called the ideal form of a truly global university.
The Keio Research Center for Foreign Language Education will continue to research and recommend methods for foreign language education in the practical learning environment that is Keio University to make this dream a reality.